"Where German Engineering meets European Craftsmanship"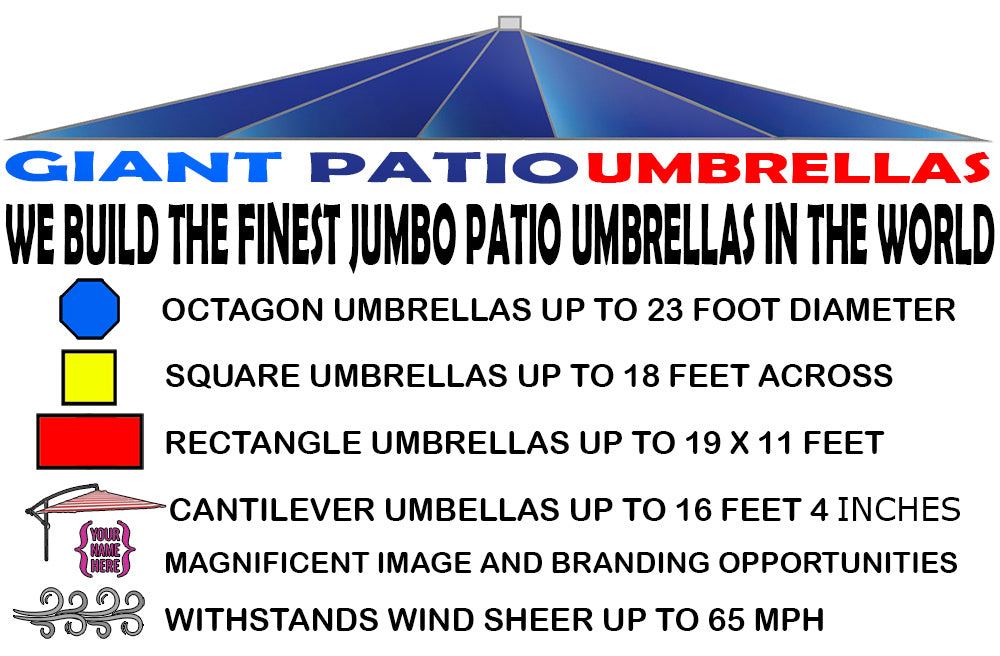 Giant Patio Umbrellas - Commercial Grade
Many hotels, resorts, and patio restaurants are seeing the value and dramatic impact of our unique "Giant" patio umbrellas. Blending German engineering and European craftsmanship our Giants truly stand out. Sizes range up to 400 square feet and are available in octagon, square, or rectangle.
Let us help you through the process of selection, crating, ocean travel, and LTL delivery of your next patio umbrella purchase. Sunbrella® fabric is standard issue in more than 100 colors, while the frame can be powder coated in your choice of 200 RAL options.
Depending on customer requirements, all umbrellas are equipped with either in ground anchors, surface mounting hardware, or portable bases. For durability, they are fabricated from aluminum and stainless steel. Additionally, the telescopic opening system raises the outer edge to clear table height when not in use.
Many hospitality customers ask for our rigid valance option to allow logos or trademark advertising. Furthermore, the decorative finial cap is colored to match the frame while a wind roof can be added to complete the look and assist in wind resistance. Should a weather incident or accident require repair all necessary replacement items are available for onsite replacement.
The grandeur of our Giant Umbrellas also gives the operator the ability to protect numerous bistro settings under a single canopy. Resorts, restaurants, and common areas alike can now add a fashion statement like no other finishing touch.
Our Giant Patio Umbrellas provide custom solutions tailored to unique customer specifications. With various mounting options and a broad range of accessories, we cater to the Leisure Industry, Commercial Projects, and Architects worldwide. Accessories allow for heating, lighting, or even total enclosures with five foot high windowing as specified. This allows the creation of outdoor rooms if desired.
We offer smaller umbrella units for upscale residential locations and simple commercial requirements, while our mid-range and Jumbo Umbrellas offer magnificent image and branding opportunities.
As the size, weight, and wind resistance needs grow, we use even more robust masts and frames to withstand 60-70 MPH gusts.
Because of the quality and durability of our Large Commercial Umbrellas they are more appropriately considered as capital improvements rather than mere maintenance expenses on an annual basis. Indeed, they can be utilized in lieu of building permanent structural outdoor canopies, requiring permits, in depth architectural analysis, and associated fees.
Municipalities, resorts, tourist areas, theme parks, hotel developments, restaurants, country clubs, and other gathering spots will all benefit from our distinctive and stylish Jumbo Umbrellas. Coastal high wind areas are especially attracted to our "Strong Wind" reinforced product line.
We invite you to explore our site and imagine the creative options that will allow your patio to become a showcase.
For professional advice please send your product inquiries to us here or Call us at (800) 504-6478