Selecting the Right Commercial Patio Umbrellas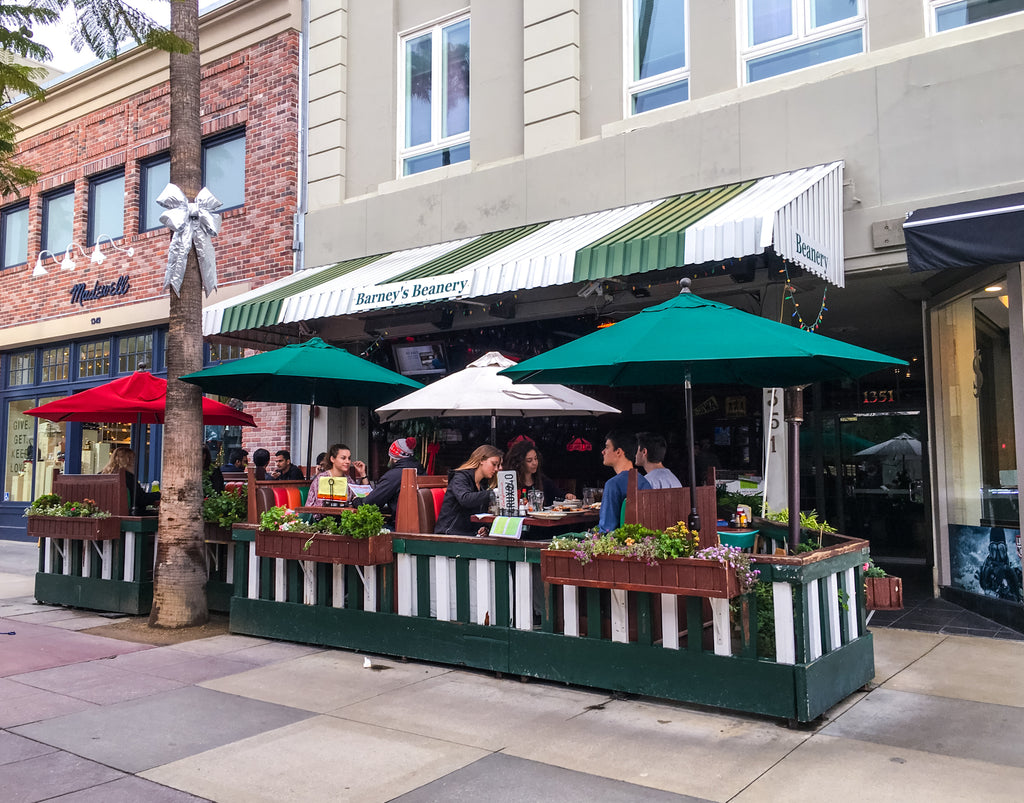 Old man winter won't last forever. Now is the time to start planning for the upcoming summer season and transforming any outdoor seating or standing areas of your business into something that will draw the crowds in and keep them there. Nothing does more to uplift the exterior of a business than eye-catching commercial patio umbrellas. Enhancing the experience with just the right umbrellas is the difference between quick commerce transactions and lingering guests creating an enviable experience that other pedestrians take notice of.
Finding the right patio umbrella can seem like a challenge, though. Big umbrellas can seem like big decisions. Luckily, the experts at Giant Patio Umbrellas are here to assist you every step of the way. 
Safety First
The last thing your customers should ever have to worry about is their own safety. When it comes to running a business, customer safety is something we all take very seriously. It's the reason why businesses should never run out to their local big box stores and buy the biggest umbrella their home patio section has to offer. Those umbrellas are fine around the pool, but in a business, they are big liabilities just waiting to ruin your day. In fact, every year, someone is injured or killed by inferior, faulty umbrellas, and the United States Consumer Product Safety Commission has been forced to recall numerous big box patio umbrellas. 
Safety is also the reason that Giant Patio Umbrellas carries one of the widest selections of mounting options and mast and frame material options capable of withstanding wind gusts up to 60-70 mph! Coastal area businesses can further protect their guests with our specialty "Strong Wind" reinforced products.
Giant Patio Umbrellas as a Statement
Aesthetically, having an outdoor area protected by large commercial umbrellas helps to add curb appeal to your business. The bigger the area beneath the umbrella or umbrellas, the more striking the statement becomes. Whether you choose to use one large umbrella, or a series of coordinated umbrellas to protect a space, you can enhance both the statement itself as well as your brand by customizing it with your own logos and brand images on a rigid valance. 
Economy
Choosing to protect an outdoor area with a commercial umbrella is not all about looks. It is also about affordable functionality. Adding usable square footage to a business comes at a substantial cost. Permanent structures or additions require permits from government entities, architectural firms, structural inspections, and unknown construction costs. Commercial umbrellas provide the cost-minded business professional with a fixed cost option. The durability and quality of Giant Patio Umbrella's large commercial umbrellas are routinely considered as capital improvements. Municipalities, resorts, tourist areas, theme parks, hotel developments, restaurants, and country clubs have all benefited from expanding their viable commercial space through the addition of commercial umbrellas.
Selection
As the suppliers of the world's largest patio umbrellas with one of the world's largest selections of commercial umbrellas, our sales team is less a group of salespeople, and more a group of design and functionality experts. With summer here before you know it, the time to start planning for the upcoming seasonal rush is yesterday.
The fact is, there are simply too many design, color, lighting, advertising, options, and size variations to put them all in one paragraph or post. That's why our design and functionality experts are here for you. At Giant Patio Umbrellas, we aren't here to sell you on something. Our products sell themselves. Rather, we are here to match our customers with the perfect addition to enhance their space and curb appeal. 
Our experts are standing by. Contact us today with your dimensions and design ideas, and let us begin to work with you to create a space genuinely unique to your business; one that your customers will be talking about for years to come.